Want To Enjoy The Water This Weekend? Check Out Ocean City's Top Watersport Activities
Posted by Nicholas Bobenko on Monday, August 24, 2020 at 8:06 AM
By Nicholas Bobenko / August 24, 2020
Comment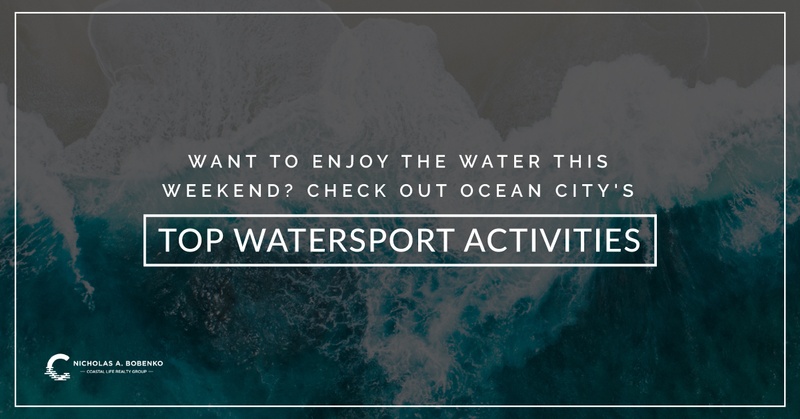 The Ocean City, Maryland area can be a great place for anyone to visit. This area is full of many great restaurants, shops, and other recreational amenities. One of the key reasons why people continue to visit here is that there is very convenient access to the Atlantic Ocean, which gives you the change to enjoy many different watersports. There are a variety of top watersport activities that you can enjoy this upcoming weekend in Ocean City.

Stand Up Paddle Boarding
If you enjoy an activity that will allow you to have fun on the open water without getting too wet, stand up paddleboarding is a great option. With stand up paddle boarding, you will essentially stand on a board that is similar to a surfboard and move around with the use of a paddle or oar. This can be a fun and relaxing activity to enjoy when the surf is low and the water is calm. It can be a great way to spend some time by yourself or as part of a larger group activity.

Jet Skiing
If you are looking for some excitement and want to enjoy the ocean waters on your own, one of the top watersport activities to enjoy is jet skiing. In the Ocean City area, there are a variety of options for renting jet skis, which you can enjoy by yourself or share with others. There are flexible rental agreements for those that want to use one for just an hour or an entire day. You can also receive all of the necessary accessories and equipment to enjoy you are able to safely have fun.

Sailing and Boating
There is no better way to spend a day in Ocean City, Maryland than on a boat in open water. Due to this, one of the top Ocean City watersports options is to go sailing or boating. For those that enjoy sailing, there are plenty of places that will rent out sailboats that you can enjoy for the day. There are also plenty of guided tours that take place throughout the day. For those that are more interested in cruising around, you can also lease a speedboat that will allow you to have fun on the water.

Surfing and Bodyboarding
One reason why a lot of people come to Ocean City is to take advantage of the rough waves that can occur during certain times of the year. If you are looking for an exciting day on the water, or simply want to learn a new skill, you should consider surfing or bodyboarding. If you have your own board, you are free to bring your own to the water. However, there are also places where you can lease your own surf or bodyboard and even take a guided lesson to learn how to surf.

Fishing Excursions
Another one of the top Ocean City watersports is to go on a fishing excursion. There is plenty of fish that are located right off the Ocean City coast, which offers you a great chance to have a fun day out on the water while fishing. If you enjoy fishing, you will be able to do so on a self-guided tour or go on a deep-sea fishing adventure. With these trips, you can enjoy the support of local fisherman that can help you to find the fish and catch them, which you can either take home or catch and release.

ParaSailing
One of the most exciting watersports that are available in the Ocean City, MD area is to go parasailing. When you go parasailing, you will be attached to sail and be towed by a boat. When you reach the highest speeds, you will be soaring more than 100 feet above the water. This will give you a fun and thrilling experience while also being able to experience the Ocean City area from a whole new vantage point.

Ultimately, those that come to Ocean City, MD for a weekend or longer trip will have plenty of great activities that they can enjoy. This includes many different outdoor watersports and activities. There are plenty of different watersports that you can enjoy while you are spending your time in the Ocean City area.