Updates to Consider When Selling Ocean City Real Estate
Posted by Nicholas Bobenko on Saturday, July 11, 2020 at 9:02 AM
By Nicholas Bobenko / July 11, 2020
Comment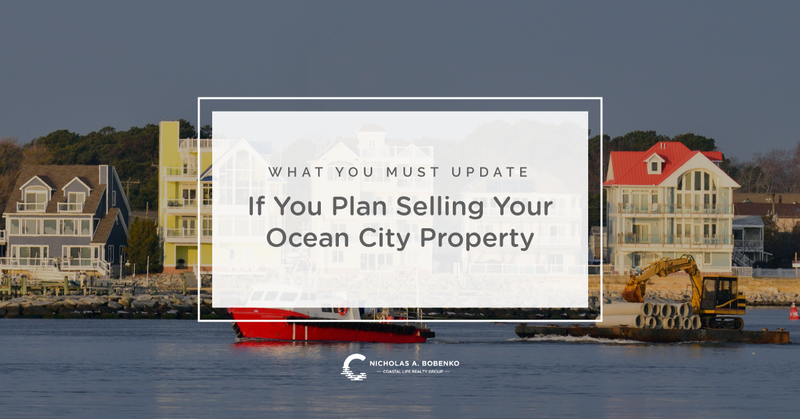 If you have decided to sell your home or condo in Ocean City, you likely have many questions and potential concerns. What if the home doesn't sell fast? What if the inspector's report turns off potential buyers? Fortunately, there are several things you can do ahead of time to increase your beach home's value. Here is the list of home updates you should consider when selling your real estate in Ocean City:
Paint
A fresh coat of paint can go a long way and is relatively inexpensive. Use neutral tones and limit it to one or two colors throughout the home. New paint will give the home a fresh look and appeal to all potential buyers.
Add more Decking
Adding decking is one of the best home updates you can do. Decking makes a landscape more unique and adds privacy to a property. You can also add more patios, porches, remodel the pool area, and install a functional open-air fireplace. However, when adding decking consider the color and the quality of wood thoroughly. In order to get the desired look, new decking should match the style and decor of your house. Make sure that you choose a high-quality and durable type of wood to protect your deck from rain and water.
Upgrade and improve the lighting
Lighting in a house is extremely important because it is responsible for the atmosphere. If you noticed there is dull recessed lighting in the living and dining rooms, make sure you upgrade it before posting your house for sale. Do not forget to replace aged light bulbs with new ones in other rooms. It might also be a good idea to add energy-efficient bulbs and fixtures. This will make your home more energy-efficient, which is desired by most home buyers today. Since home showing often occurs in the daytime, take into consideration natural lighting as well. Make sure that the curtains and blinds do not block the natural lighting and do not make your house too dark. In order to make your house more attractive and create a cozy atmosphere, consider adding more lamps, including under-cabinet lamps, desk lamps, accent lamps, and bedside lamps.
Upgrading Curb Appeal
The first thing potential buyers will see when they come to look at your home is its curb appeal. According to the National Association of Realtors, over 71% of home buyers consider curb appeal when shopping for a new home. For this reason, if you want to sell your house fast and at the desired price, we recommend you upgrade your curb appeal. You can paint your front door, plant more flowers, brush the steps up to the door, remove weeds, and mulch the lawn to make it look more attractive and cleaner.
Add smart home features
This upgrade might seem expensive, but it is definitely worth it. Smart homes are becoming more and more popular today, which means that a house with smart features is more valuable and expensive. Some ideas include installing a voice assistant or speakers in the walls, replacing an old thermostat with a new one, and adding smart locks and garage door openers.
Replace old carpets and floors
One of the first things buyers see when they step inside a home is the floor. If your floor looks old and worn, it might scare away a potential buyer. If your carpet is stained, you may need to hire professionals to clean it. You can also buy water-based products in one of the flooring stores that help to renew different floor types. However, if you have not replaced your carpet for many years, this might be the right time to do it.

Each of these easy low-cost home improvements will help to change potential buyers' impressions and increase your home's value. The best thing about these updates is that they will not empty your wallet and do not require too much time and effort.