Seller's Guide Step 1 - Strategy
Posted by Nicholas Bobenko on Sunday, August 23, 2020 at 7:51 PM
By Nicholas Bobenko / August 23, 2020
Comment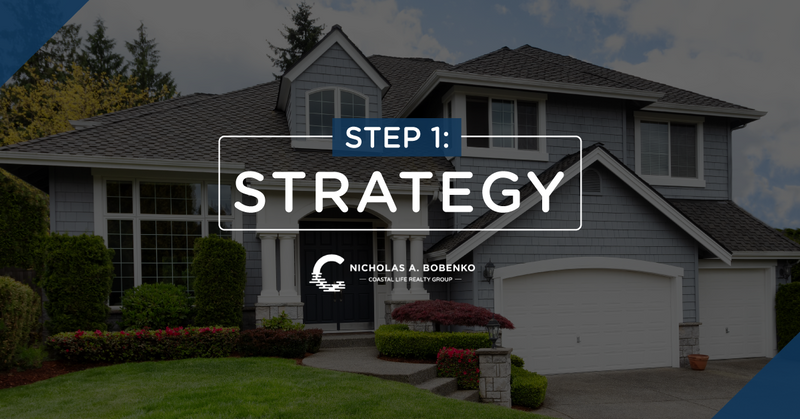 When it comes to selling your home in Ocean City or the surrounding areas you need to have a strategic plan in place to ensure you sell your home for the highest price possible, in the least amount of time with the fewest hassles. Creating a comprehensive strategy ahead of time is a necessary and worthwhile step. It will help you prioritize your goals and in-turn develop a marketing strategy and plan that accomplishes them.
Know Your Goals
Common goals when selling real estate in Ocean City and the surrounding areas are generating the highest price possible, selling in a reasonable timeframe, having a smooth transaction, ensuring your interests are represented and having the home go under contract and sell. Accomplishing these goals comes down to four primary factors:
Pricing Strategy
Home's condition
Marketing plan
Agent experience
The Ocean City real estate agent you choose to work with must have a system in place that addresses all of these factors. The first step in this process is determining the property's value and listing price.

Determine the Listing Price

A well priced Ocean City home will generate competitive offers and sell within a reasonable amount of time. Setting the listing price for your property is the most important step in the listing process. If you set the price to high you will have limited activity and your home will sit on the market. If you price the property too low you could be leaving thousands of dollars on the table.

There are many factors that affect property values:
Local market conditions
Property size
Age and property condition
Recent comparable sales
Location and views
Interest rates
Number of competing listings on the market
Economy
Community amenities
Homeowner's Association factors
In order to determine an accurate listing price you should have a Comparative Market Analysis (CMA) prepared for your property. The CMA report will analyze recent comparable sales, similar properties currently under contract and the active Ocean City real estate listings you will be competing against. A well researched and accurate CMA will provide you with the information you need to strategically price and position your property in the market.
Advantages of Proper Pricing
Pricing your home correctly from the start has many advantages that you need to capitalize on:
Taking advantage of motivated buyers
Selling in a reasonable timeframe
Better offers and terms
Less inconvenience
Better Realtor response
Avoiding high "days on market"
Higher net proceeds
Lower carrying costs
A majority of the showing activity your home will have will be within the first couple of weeks the home is listed. Pricing your home correctly will attract all of the potential Buyers that are currently in the market. When a home is priced correctly Buyers get excited, feel a sense of urgency and make strong offers.
As Antoine de Saint Exupery said ... "A goal without a plan is just a wish." A comprehensive plan and proper pricing strategy are imperative for success in today's real estate market. Buyers are educated and have access to more real estate information and data than ever. If you would like ot discuss this in greater detail or have any other questions concerning real estate in Ocean City or the surrounding areas, feel free to contact me directly anytime at 443-614-9179 or via email below.
---
Contact Nicholas