Seven Step System for Buyers
Posted by Nicholas Bobenko on Sunday, June 14, 2020 at 8:52 AM
By Nicholas Bobenko / June 14, 2020
Comment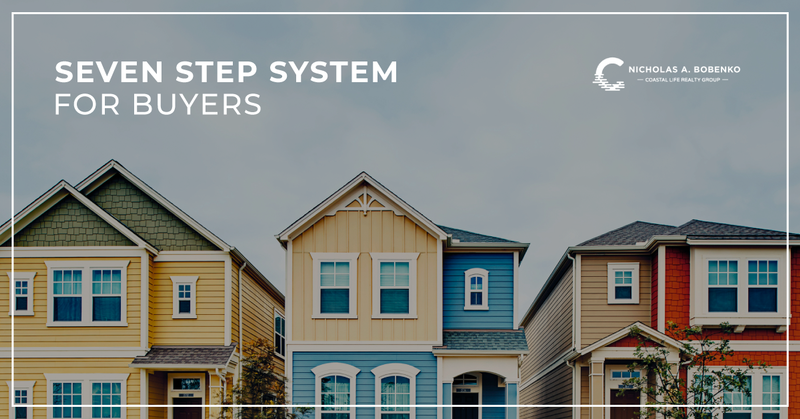 Purchasing a home for sale in Ocean City or the surrounding areas is a large financial transaction that involves a lot of time, people and information to manage. When improperly managed the process can be overwhelming and often results in undesirable outcomes. You deserve to have an experienced, knowledgable advisor by your side to assist you in navigating through the home buying process. Below you will find an overview of the Seven Step System I have in place to ensure my clients have seamless real estate transactions from start to finish.
STEP 1 - Initial Consultation
The first step is to set-up a time to discuss what you are looking for in your new home. Things to consider during this process are:
Location
Property Size
Views
Property Type
Price Range
Features
Amenities
Intended Use
As you work through this list and other considerations you will identify the ideal home for your wants and needs. This process will help focus your search and enable us to create a plan to move forward with.
step 2 - New Listing Alerts
Once you determine the type of property you are looking for I will set-up your Listing Manager Account. I will email you new listings and price adjustments for Ocean City area properties that match your specifications as soon as they hit the market. This service will save you a lot of time and effort, while also ensuring you do not miss out on a good opportunity.
step 3 - Mortgage Pre-Qualification
If you are going to be financing your upcoming purchase I will get you in touch with my mortgage partners, whom can assist you in securing mortgage pre-approval. Getting pre-approved for the mortgage ahead of time provides several benefits:
Ensures the upcoming purchase fits in with your overall financial planning
Enables you to buy with confidence
Puts you in a position to make strong offers in a competitive market
step 4 - Schedule Showings
This is when it starts to get fun! Once you identify some properties of interest I will schedule property showings for you. We can typically see all of the properties on your list in a day and I will always make good use of your time.
step 5 - Make an Offer
Once you identify a home or condo that you want to pursue further I will assist you in preparing the offer. I will go through the recent comparable real estate sales with you to determine an offer price that you are comfortable with. I will then negotiate on your behalf to secure the best deal possible with the most favorable terms.
step 6 - Contract Phase
During the contract phase I will oversee the mortgage process, title work, property inspections, homeowners association review and closing. Me and my support team will work with you through each of these steps and provide guidance as needed.
step 7 - Closing
Several days prior to closing I will review the settlement statement with you and confirm the final figures. I will meet you at the property prior to closing for a final walkthrough to confirm everything is as it should be. We will then head to the title company to sign the final paperwork. Time to celebrate your new Ocean City home!
---
Let's Get Started