5 Best Restaurants Offering Take-Out in Ocean City
Posted by Nicholas Bobenko on Sunday, May 24, 2020 at 1:20 PM
By Nicholas Bobenko / May 24, 2020
Comment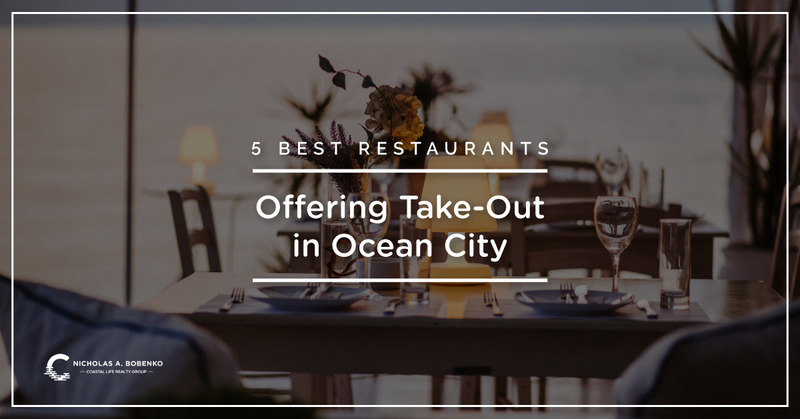 Ocean City, Maryland is a very popular vacation destination for people from all over the country. When you come to visit for a vacation or live there permanently, one of the main draws is the access to a wide range of amazing restaurants. Similar to other cities located across the country, eating in a restaurant in Ocean City has been largely restricted. However, you can still get an amazing meal in Ocean City by ordering takeout from some of the most popular restaurants around. There are five restaurants in particular that are offering great deals and meals for pickup or delivery.
A popular restaurant in Ocean City is Liquid Assets. Whether you are interested in a quick lunch or a full-course dinner, Liquid Assets offer a contemporary culinary approach that delivers delicious traditional favorites from scratch with local, freshly prepared, high-quality ingredients. Some of the best things to try are their Kung Pao Calamari, Wagyu Burger and Gourmet Grill Cheese. This place will definitely make your time in Ocean City one to remember. Take a quick peek at their menu and have the phone close as there is something for everyone.
The Rice House Bistro has been combining the art and precision of Asian cuisine since 1987. This place has become an Ocean City landmark and many will tell you that you can't leave until you try it. They offer not only the best sushi around, but they also have amazing Asian, seafood and steak dishes. I recommend the White Tiger and Dragon rolls, as well as the Hunan Delight and any fresh fish entrees they may be offering. If you are craving Asian food with a twist, you have come to the right place. See what you will love on the menu.
Calling all Tex Mex fans! Mother's Catina whips up the best recipes that leave your taste buds begging for more. Seriously though, with their use of fresh, organic, and local ingredients, Mother's offers some of the best food in Ocean City that just happens to be Tex-Mex inspired. Some of my favorites include the Chimichanga Combo, Tuna Tacos and their Combo Fajitas. They also just released their famous margarita kits, which includes two ounces of Fresh sour mix, a bottle of tequila, and a bottle of triple sec for your fiesta at the casa. Check out their menu and see what looks good for Taco Tuesdays!
One of the most authentic local pubs around. Restaurant and bar owner, Mike Schott wanted to bring a unique menu and locals vibe to Ocean City. We can say first hand, mission accomplished. The food is fantastic and the ambiance is a full experience in itself. Be sure to try their Zippy Cana wings, Heelflip salad and El Guapo tacos. We love the Monday night $10 wood-fired pizza and $5 craft beer specials. Check out their awesome menu.
One of the most iconic restaurants on the Maryland coast for a long time has been Hooked. This restaurant is well known for its full line of fresh fish, steaks, and chicken. For those that are in the area, using Hooked's curbside service is a great way to enjoy their amazing food. My favorites include their Crab Cakes (best around), Pan Seared Scallops and Shrimp and Grits. There are also frequent specials and promotions available to curbside pickup customers, which include discounted deserts and half-price bottles of wine. Check out Hooked's menu.

Ultimately, when coming to the Maryland coast, there are many great restaurants to choose from. While the dining experience today may be different than it was in the past, you can still enjoy a delicious meal and great takeout service. These are five of the top restaurants to consider when you are looking to have a delicious meal at home.