17 Home Renovations to Spark Some Project Ideas in 2020
Posted by Nicholas Bobenko on Tuesday, June 30, 2020 at 8:23 AM
By Nicholas Bobenko / June 30, 2020
Comment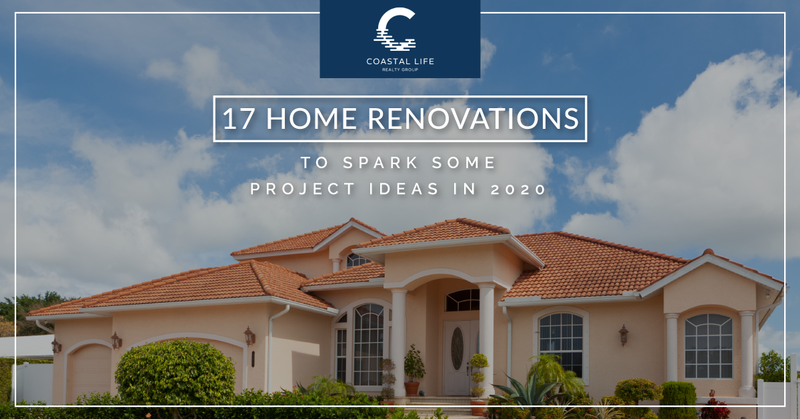 As we get into the heart of summer, you may be looking for home renovation ideas for your Ocean City home or condo. If you know you want to do something to change up the look of your home, but are looking for some ideas on where to start, here's a look at 17 ideas to inspire you as you give your home a new, fresh look.

1. Two Tone Is Out - Three Tone Is In
It's long been said that the kitchen is the heart of the home, and there's been a recent trend of using 3 different colors to provide an added layer of depth to the kitchen. Consider having different sections of cabinets be two different colors with a third color on the walls.
2. Wood Cabinets
If you don't want to take the leap into a tri-tone kitchen, there has also been a resurgence of wood cabinets that provide a simplistic look.
3. Soft Kitchens
2019 saw the trend of "soft" colors become very popular in kitchens, and it's widely expected that it's a trend that will continue. Marble backsplashes with soft gray and white cabinets provide a clean, elegant look.
4. Butcher Block Counter Tops
Especially popular on island countertops, a butcher block countertop made of wood breaks up the solid colors of perimeter counters and cabinets.
5. Decorative Sink Panels
Some major companies, such as Kohler, are introducing customizable farmhouse sinks. These allow homeowners to choose a pattern that will be embossed across the front of their sink, allowing you to be as bold or as modest as you want.
6. Thin Materials
Inspired by home renovation trends in Europe, some companies are introducing ultra-thin countertops which give a sleek, modern look to your kitchen. Instead of large, blocky countertops that show 2-inch faces along their edges, these are often less than 1 inch in width.
7. Quartzite
Granite has been in a decline in popularity and isn't expected to bounce back anytime soon. In its place, quartzite has risen in popularity. Its uniqueness means that no two slabs ever look exactly the same, ensuring a one of a kind look on your counters.
8. Dark Colors
While soft colors will always be popular, darker tones are seeing a resurgence. Deep, grey cabinets and dark countertops provide an elegant look in your Ocean City home.
9. Porcelain
Long thought to be a material that was for bathrooms, porcelain also has a place in the kitchen. The patterns remain vivid in porcelain, but the heat and stain-resistant qualities make it a kitchen dream.
10. Mixed Finish Tiles
A subtle backsplash option sees homeowners choose a combination of high-gloss and matte tiles. This creates a subtle contrast but still provides depth to your backsplash.
11. Backsplash Boldness
If subtle isn't what you're going for, consider putting a large slab of granite on a wall in your kitchen. Other rooms have accent walls, so your kitchen deserves the opportunity as well.
12. Walk-in Showers
Walk-in showers have never been as popular as they are right now. Providing a mix of style and functionality, this option gives you a chance to mix and match styles and patterns to make your bathroom really pop.
13. Calm Living Rooms
Most of us have our living room as the "social hub" of our home, so it's rarely calm. But utilizing soft colors, calm patterns, and casual fabrics can bring a sense of calm that every family needs.
14. Shower Ledges
Another bathroom idea, shower ledges give a shower a modern look while giving you somewhere to conveniently keep your toiletries. Also, it's much easier to attach a ledge than to dig out an inset between tiles and studs in the wall.
15. Wet Rooms
This is contingent on having a relatively large bathroom but putting a standalone bathtub in a shower that's totally enclosed can provide your bathroom with a luxurious and unique look while keeping all the splashing confined to one area.
16. Deep Sinks…in the Laundry Room?
Lots of clothes need to be presoaked before they get put in the washer. If you're going for a farmhouse style in your whole home, consider putting a deep, farmhouse-style sink in the laundry room.
17. Loud Laundry Rooms
Lots of top designers have long encouraged people to make their laundry room an enjoyable space. Considering putting loud colors and vibrant patterns on the wall of your laundry room to liven up space and make a seemingly mundane chore more fun.

While your home renovation ideas certainly need to be something that fits you and your family, there are plenty of options you can consider if you're looking to freshen up the look of your home in Ocean City. Hopefully this provides some inspiration to start a new project!